Fim de semana combina com… artigo! O LADETEC tem 5 para você aproveitar o fim de mês.
Para iniciar temos o primeiro artigo da parceria entre o Núcleo de Análises Forenses e a Polícia Civil do Estado do Rio de Janeiro (PCERJ). Publicado na Forensic Science International, no artigo "Chemical and statistical analyses of blotter paper matrix drugs seized in the State of Rio de Janeiro" é criado um mapa químico e geográfico do abuso de mata-borrões (usado geralmente para consumo de LSD) originados de apreenssões da policia civil..

Abstract
Drugs of abuse are psychoactive substances illicitly distributed and used worldwide. In Rio de Janeiro, Brazil, they represent a public health issue and are directly related to several social problems. The recent increase in appearances of new psychoactive substances (NPS), derived from structural modifications of existing psychoactive substances, poses a threat to public health and forensic laboratories worldwide, as little is known about these substances. This study aimed to chemically and geographically map drugs of abuse from blotter papers seized by the Civil Police of Rio de Janeiro State (PCERJ) between 2006 and 2019. High-performance analytical techniques, such as gas chromatography-mass spectrometry (GC–MS) and Orbitrap mass spectrometry (Orbitrap-MS), combined with statistical analyses, were employed to characterize the seized samples. The most common chemical compounds in NPS found in this study were synthetic phenethylamines, i.e., molecules from the 25I-NBOH (2-(((4-iodo-2,5-dimethoxyphenethyl)amino)methyl)phenol) and 25I-NBOMe (2-(4-iodo-2,5-dimethoxyphenyl)-N-(2-methoxybenzyl)ethanamine) families. Prior to 2014, the majority of seized blotter papers contained lysergic acid diethylamide (LSD) and were concentrated in the Metropolitan region. An upsurge in blotter paper seizures was observed from 2014 to 2017; the most common substances during this time were from the NBOMe family. NBOH compounds emerged in 2016 in coastal regions with high tourism, reaching over 1300 items only in 2017. Only one synthetic cannabinoid was found among the blotter papers seized in Rio de Janeiro between 2006 and 2019. The assembled chemical data and statistical analyses allowed the mapping and monitoring of the chemical profiles of the seized blotter papers, providing a strong foundation for the understanding of the origins and movement of these drugs around the RJ State.

Você encontra o artigo clicando aqui.
***

Nosso segundo artigo é uma colaboração do Núcleo de Análises Forenses e do Laboratório de Geoquímica Orgânica, Molecular e Ambiental, publicado na Fuel com o título "Characterization of nonvolatile polar compounds from Brazilian oils by electrospray ionization with FT-ICR MS and Orbitrap-MS" e tem como objetivo comparar diferentes espectrômetros de massa na análise de petróleo bruto.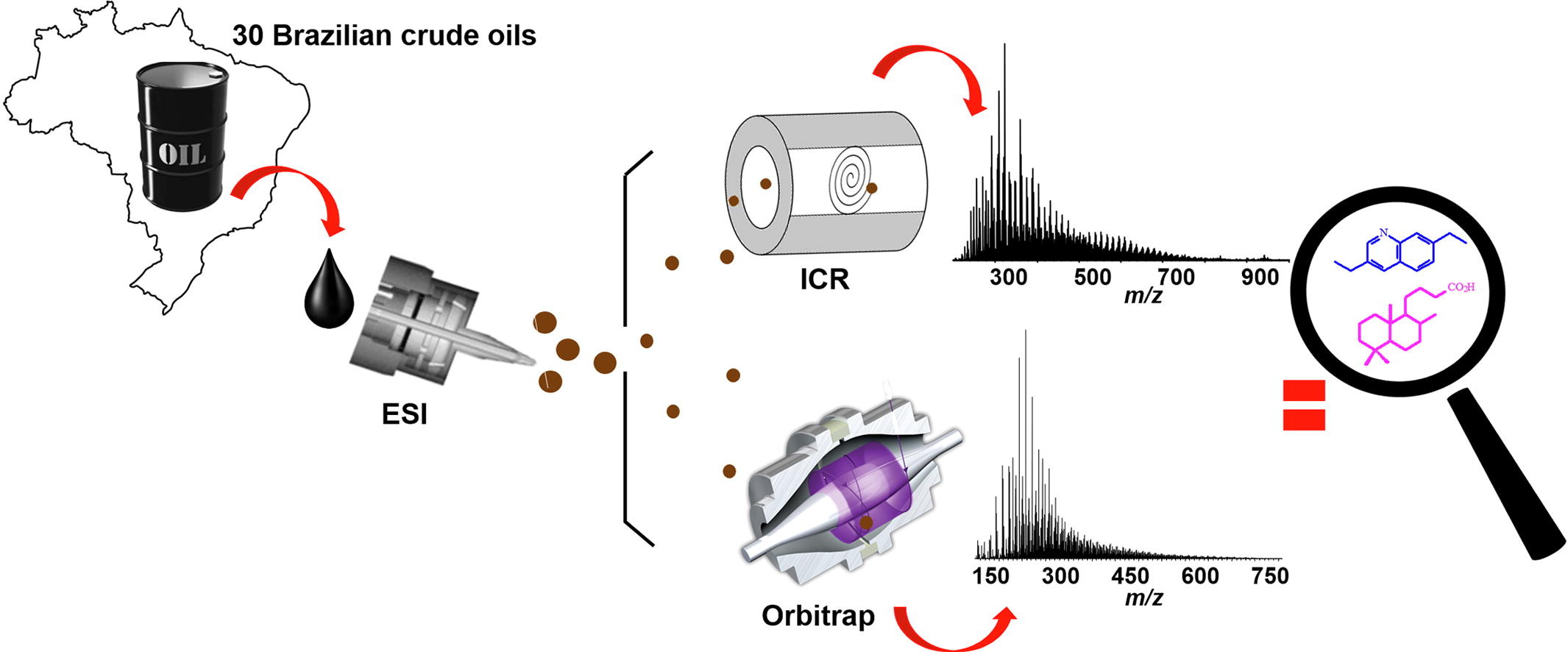 Abstract
Among the different types of available high-resolution mass spectrometers, Fourier transform ion cyclotron resonance mass spectrometry (FT-ICR MS) and Orbitrap-MS are important tools for the study of nonvolatile crude oil fraction composition. No in deep comparison between each analyzer was still performed, mostly with a wide broad of real crude oil samples. Therefore, in this study a representative set of 30 Brazilian crude oils with a wide range of American Petroleum Institute (API) gravity (13.1–53.7) were considered. The ICR and Orbitrap analyzers allowed the elemental composition to be obtained by accurate mass measurements, and the most abundant species were mainly N, N2, O3, O1, O2, NO2, NS, NOS, and OS classes. In general, FT-ICR MS favored the detection of higher molecular weight analytes in relation to Orbitrap-MS. The notable distribution of the heteroatom classes showed that crude oils with intermediate API gravity presented a higher relative abundance of nitrogenous compounds (Nx), while lighter oils presented a higher abundance of oxygenated compounds (O1). The heavier ones had a higher abundance of O2 class, which was not verified by Orbitrap-MS, where a prevalence of O2 class was detected in major crude oils. An increase in average molar weight values was observed when we changed technique (Orbitrap-MS → FT-ICR MS) and ionization mode (negative → positive), since FT-ICR MS detected substances with higher m/z. In this way, this work examines the application of two different high-resolution mass analyzers, and shows the versatility and analytical response of each one within petroleomics.

Você encontra o artigo clicando aqui.
***
O Laboratório de Geoquímica Orgânica, Molecular e Ambiental e parceiros publicaram o artigo "Bioproducts from the pyrolysis of castor seed cake: basic dye adsorption capacity of biochar and antifungal activity of the aqueous phase" na revista Journal of Environmental Chemical Engineering. O trabalho visa estudar outros produtos da pirólise da Mamona, avaliando seus possíveis usos como agente antifúngico e adsorvente de poluentes.

Abstract
Castor seed cake, a solid residue produced after castor oil extraction, has been used as raw material in the pyrolysis process. Crude biochar (40.6% yield) was subjected to four activation methods; the best activating agent for obtaining activated biochar 1 (AB1) with 603.29 m2 g−1 of a specific area comparable to commercial active carbon in the methylene blue dye adsorption was concentrated sulfuric acid (H2SO4). The adsorption experiments revealed the removal of more than 96% of the dye, kinetic studies showed that a pseudo-second-order (r2 ≥ 0.99) model fitted better with evaluated data and that intraparticle diffusion controls the adsorption rate of the dye by AB1. The aqueous phase (19.2% yield) was lyophilized, and the organic extract contains –N (3%), –O (49%), and –NO (48%) content compounds. The in vitro antifungal activity against the Cryptococcus species was evaluated, and a low concentration of the aqueous phase induced higher growth inhibition in C. neoformans and C. gattii. Therefore, the use of castor seed cake, an environmental waste, in the preparation of an adsorbent material can be considered a low-cost alternative for water treatment when contaminated with the MB dye. Moreover, the aqueous phase, which is a commonly neglected slow pyrolysis by-product, could be an efficient option for decontaminating areas with a high fungal load.

Você encontra o artigo clicando aqui.
***
O LAGOA não parou de trabalhar e tem mais um artigo! Publicado na Organic Geochemistry com o título "Biomarkers of photosynthetic sulfur bacteria in Lower Cretaceous crude oils, East Brazilian marginal basin", a fração aromática foi caracterizada de óleos brutos do Cretáceo Brasileiro.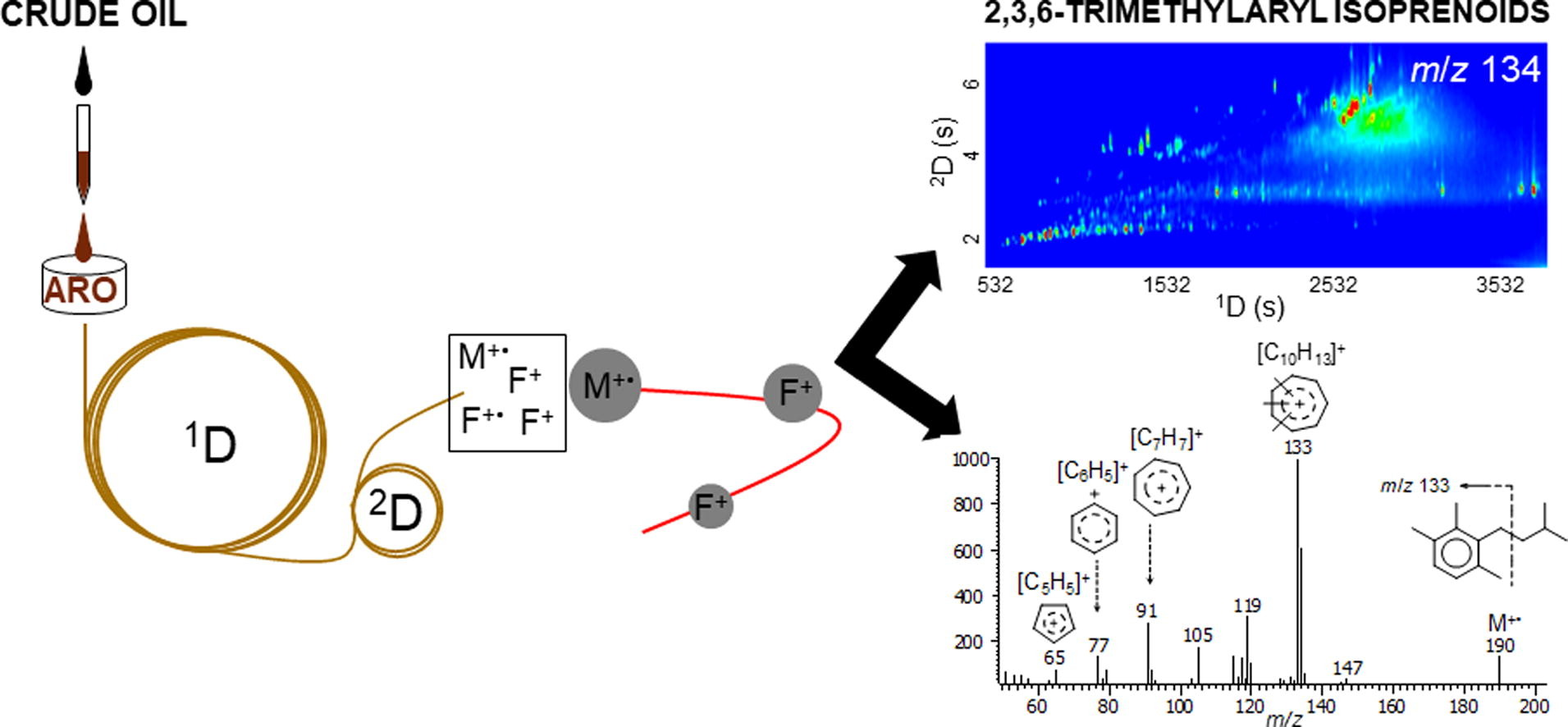 Abstract
Diagenetic aromatic carotenoids and degradation products, which are derived from the carotenoids of photosynthetic sulfur bacteria, were characterized in the aromatic fraction of Brazilian Cretaceous crude oils (NE Brazil, Sergipe-Alagoas Basin) by high-temperature comprehensive two-dimensional gas chromatography coupled to time-of-flight mass spectrometry (HT-GC × GC–TOFMS). Unresolved complex mixtures (UCM), coeluting compounds, and limited mass spectrometric identification were noted by traditional one-dimensional (1D) GC–MS screening of aromatic compounds. Group-type separation on a two-dimensional chromatographic plane, first- and second-dimension retention times (1tR and 2tR, respectively), and mass spectra enabled the assignment of alkylated mono-, di-, tri-, and tetra-aryl hydrocarbons with confidence. A series of diagenetic C40 carotenoids and degraded products, which are likely indicators for green-brown sulfur bacteria, were detected. This finding corroborates previous results, and isorenieratane was relatively more abundant than 2,3,6-trimethylaryl isoprenoids. Moreover, atropisomeric biphenyls (m/z 237), which coeluted using 1D GC–MS analyses, were resolved by GC × GC and identified by mass spectrometry. The identification of minor abundances of chlorobactane, diagenetic biphenyl chlorobactane, and related compounds, for the first time in these Brazilian Cretaceous oils, may indicate a contribution of green sulfur bacteria (Chlorobiaceae) and photic zone euxinia in shallow waters.

Você encontra o artigo clicando aqui.
***
Nosso último artigo também é do LAGOA. Publicado na Microchemical Journal com o título "The speciation of the organic compounds of slow pyrolysis bio-oils from Brazilian tropical seed cake fruits using high-resolution techniques: GC × GC-TOFMS and ESI( ± )-Orbitrap". O objetivo do estudo foi valorizar dois resíduos agrícolas brasileiros, através da caracterização química detalhada de seus bio-óleos de pirólise
Abstract
In view of increasing energy needs in modern society and the desire to replace current energy sources with clean and sustainable ones, biomass is now considered to be a renewable energy source with considerable potential. As Brazil is a major agricultural producer, the reuse of its agroindustrial residues is being explored to find ways to utilize this waste. In the current study, soursop seed cake (SSC) and bocaiuva seed cake (BSC) were processed using slow pyrolysis to obtain bio-oil. Comprehensive two-dimensional gas chromatography (GC × GC) with time-of-flight (TOF) mass spectrometry (MS) (GC × GC-TOFMS), and positive ion and negative ion (±) electrospray ionization (ESI), coupled with Orbitrap high-resolution (HR) mass spectrometry (MS) (HRMS) (i.e., ESI(±)-Orbitrap HRMS), was performed to provide complementary and comprehensive characterization of the bio-oils, without pre-treatment. As a result, 414 and 222 analytes were tentatively identified in the SSC and BSC bio-oils, respectively. The tentatively identified compound classes were acids, esters, ketones, phenols, cyclopentanones, furanes, diols, amides, pyridines, pyrroles, and hydrocarbons. Compounds with molecular weights in the range of m/z 100–300 were detected in the bio-oils using ESI(±)-Orbitrap HRMS. The N2 class was the most abundant in positive ion mode, representing 37% and 48% of relative abundance in the SSC and the BSC bio-oils, respectively. These data support the data obtained using GC × GC-TOFMS. The O2 heteroatom class was the most abundant for both types of bio-oil in negative ion mode, which were assigned to the carboxylic acid class previously identified by GC × GC-TOFMS. Lauric, palmitic, and oleic acids were found to be in high abundance, similar to the results achieved using GC × GC-TOFMS.
Você encontra o artigo clicando aqui.