Vamos começar a semana com artigo novo?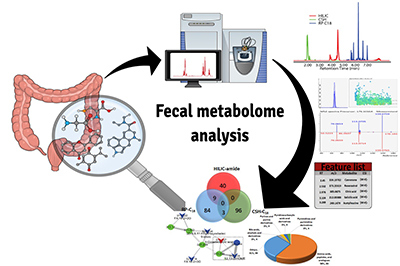 O primeiro é do Laboratório de Metabolômica (LabMeta). No artigo foram criadas estratégias analíticas para analisar uma ampla quantidade de metabólitos com propriedades químicas diferentes de amostras fecais. A abordagem apresentada permitiu a anotação de mais de 300 substâncias de 70 classes químicas diferentes, mostrando a complexidade e importância desse tipo de amostra para o estudo das vias bioquímicas. O artigo foi publicado online e em breve estará numa edição da revista Journal of the Brazilian Chemical Society com o título "A Systematic Pipeline to Enhance the Fecal Metabolome Coverage by LC-HRMS"
Abstract
The comprehended knowledge of the metabolic profile of the fecal matter has been recognized as an important point for understanding metabolic changes in the human systemic metabolism and it can provide precious information about host-gut microbiota interactions. However, few analytical strategies have been addressed for a broad analysis of metabolites with different chemical properties to better understand the chemical space of fecal samples. Here we report a systematic pipeline to achieve comprehensive coverage of the fecal metabolome, from high polar to nonpolar metabolites, using dog fecal samples as a proof-of-concept. This pipeline comprises a monophasic (ACN/H2O) and a biphasic extraction (methyl tert-butyl ether (MTBE)/MeOH/H2O) of the sample, followed by three liquid chromatography-high resolution tandem mass spectrometry (LC-HRMS/MS) methods using HILIC-amide, RP-C18 and CSH-C18 columns, and a switch polarity acquisition mode in the electrospray ion source. This approach allowed the annotation of 376 metabolites from 70 different chemical classes. The chemical space analysis by molecular networking and the pathway analysis revealed the complexity of the fecal sample and the importance of combined methods to better understand biochemical pathways. This pipeline can be used as a valuable tool to comprehend the relationship between host-gut microbiota metabolites and the influence of diet, medication, or environmental changes.
Você encontra o artigo clicando aqui.
***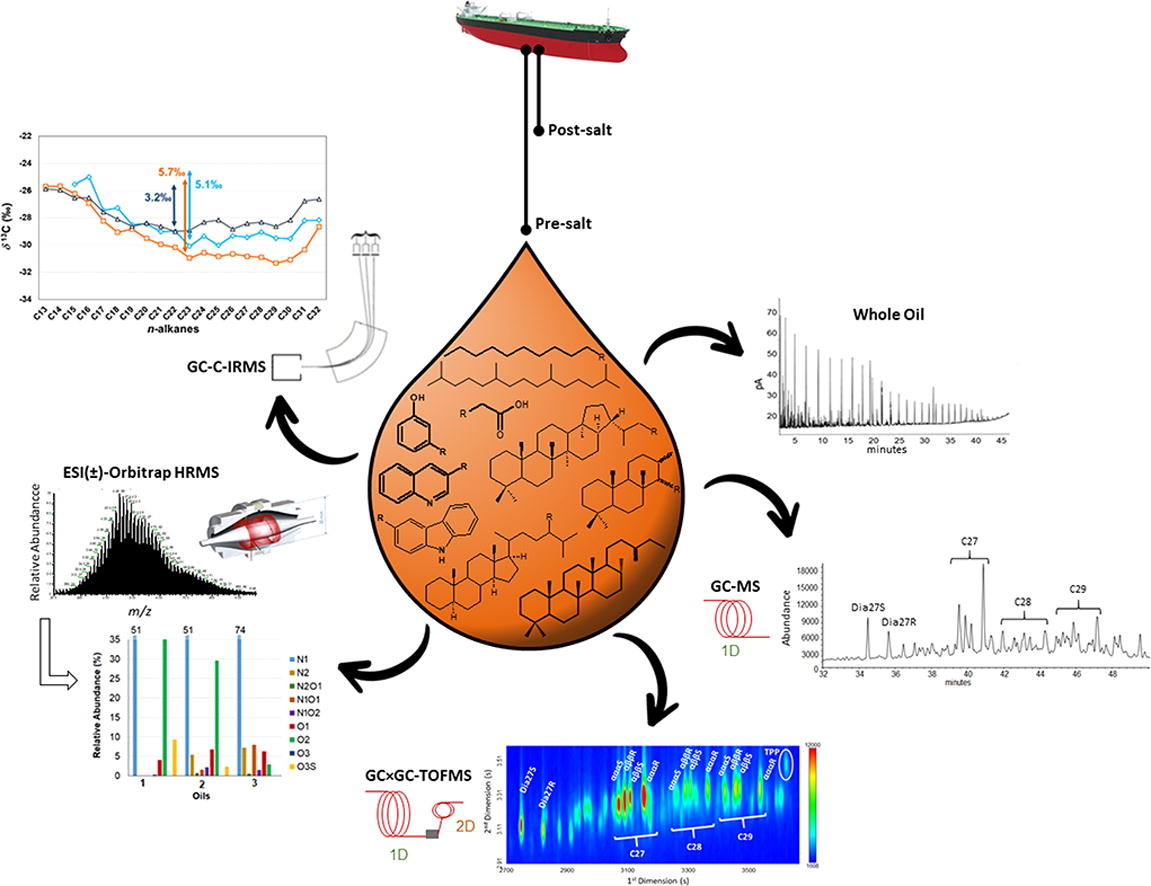 Nosso segundo artigo é do Laboratório de Química Orgânica, Molecular e Ambiental (LAGOA), publicado na Organic Geochemistry com o título "Deconvolution of post- and pre-salt petroleum sources in southeastern offshore Brazilian basins", o artigo avalia geoquimicamente seis óleos brutos do pré e pós-sal da bacia do sudeste da costa brasileira (SEOBB) utilizando diferentes técnicas. O trabalho é um dos primeiros a utilizar ESI(±)-Orbitrap HRMS para caracterização geoquímica.
Abstract
The Campos, Santos and Espírito Santo Basins are part of the southeastern offshore Brazilian basins (SEOBB) where pre-salt reserves are located. This represents the most important oil province in Brazil. Constant growth in the discoveries and production of the country's oil reserves has shown the importance of the pre-salt discoveries; thus, proper oil constituent characterization at the molecular level is needed for this type of petroleum. Six oils, collected in pre- and post-salt reservoirs from SEOBB, were evaluated using GC-FID, GC–MS, GC-C-IRMS, GC × GC-TOFMS, and ESI(±)-Orbitrap HRMS. The biomarker parameters obtained indicated a lacustrine input for all the oils, except for the TAB-4G post-salt oil. All the oils reached the peak of the oil generation window, except the TAB-4G oil, which reached the late stage. The carbon isotope profiles suggested a lacustrine depositional environment for the organic matter (OM) with δ13C isotopic amplitudes ranging from 3.2‰ to 6.9‰. The profile of the TAB-4G oil suggested a contribution from terrestrial OM. This work is one of the first to apply ESI(±)-Orbitrap HRMS for geochemical characterization. In both (±) ionization modes, the data showed that the oils had high percentages of Nx classes, especially N1 compounds, strengthening the interpretation of a lacustrine origin for the OM. ESI(-) HRMS showed that the TAB-4G oil contained a high relative percentage of Ox classes, especially O1 with 8–16 double bond equivalents (DBE) species, suggesting a marine contribution. The combination of the conventional geochemical approach with advanced chromatographic and mass spectrometric techniques allowed for a comprehensive molecular characterization of the post- and pre-salt oils, contributing to a better understanding of the prolific SEOBB petroleum systems.
Você encontra o artigo clicando aqui.